Stainless steel mesh chain concept: stainless steel material, used in a variety of chain conveyor machinery.
Application of the network chain can be divided into: stainless steel mesh chain, conveyor chain, food chain, metal mesh chain, high temperature chain, etc.
Weaving and characteristics: the structure of the shape of the ordinary weaving, reinforced weaving, segmented ordinary weaving, etc..
Production of industrial chain materials are: stainless steel, wire mesh, 1CR18NI9TI stainless steel, OOR18NI14M2CU2 heat-resistant acid resistant steel, etc.
The use of stainless steel mesh chain in the industry are: automatic equipment and automatic assembly line of glass bottles, food, light bulbs, metal, glass, chemical, electronics, metallurgy, heat treatment and other industries; natural gas, coke oven gas and infrared transmission system using various kilns and other food machinery, glass machinery transportation, machinery etc..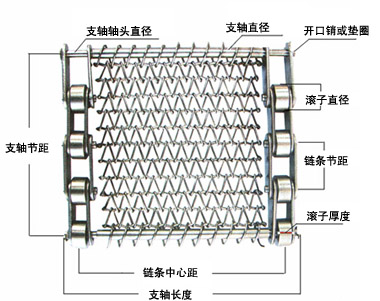 订购链网所需数据的内容:
链条

支轴

网带的数据

滚子
直径

滚子
度厚

节距

中心距

材质

直径

长度

节距

轴头直径

材质

位置

轴头模式

 

 

 

 

 

 

 

 

 

 

 

链片中心
或两边

开口销
或垫圈

特殊规格产品来图来样均可设计制造!